Below are some other great websites with information on a range of topics related to 'green' gardening, and plant care.
Organizations
Leach Botanical Garden specializes in preserving the original Leach collection as well as introducing Northwest native plants through educational programs, conservation, and community involvement.
Hardy Plant Society is a nonprofit group for beginning to experienced gardeners, focusing mainly on plants that thrive in the Pacific Northwest. See the website for information on their sponsored garden tours of top-notch Portland metro and Clark County gardens, plant and seed sales and workshop offerings.
Association of Northwest Landscape Designers' (ANLD) website contains tips on how to determine when to hire and how to choose a landscape designer. ANLD offers their Annual Designers Garden Tour on the third weekend in June.  It's a great way to see professionally designed gardens and get some creative new ideas. Amy has had gardens on this tour, and has been the PR chair for this great event. Tour tickets can be purchased online.
The Association of Professional Landscape Designers (APLD) links to plant and gardening information, horticultural and landscape history and sources for landscape furnishings and art. You'll also find a great collection of links to searchable databases with information on care and propagation of plants.  Amy is the Legislative Advocate for the Oregon Chapter, protecting the rights of Oregon Landscape Designers to practice their trade.
Sustainability
The Backyard Habitat Certification is a local effort by Audubon Society of Portland and Columbia Land Trust to give homeowners the resources and information needed to remove invasive plants and grow native plants, creating habitat for our native wildlife. Stormwater management and wildlife stewardship are also integral to the program. Amy is a recommended designer with this program. Read more about the Program on The Columbia Land Trust website.
Clean River Rewards is Portland's stormwater utility discount program. With Clean River Rewards, Portland ratepayers can save money and work for clean rivers and healthy watersheds at the same time. Plan-it- Earth Design is listed on their technical assistance page as a resource for designing a beautiful solution to your disconnected downspout. BES encourages us to learn how to build and maintain Rain Gardens. Watch their video, How to Build a Rain Garden, on their website.
East Multnomah Soil and Water Conservation District provides free workshops for the public on topics such as Naturescaping, Invasive Plants, Streamside Restoration and Rain Gardens. Registration is required. Amy is a presenter for EMSWCD's Rain Gardens, Naturescaping and Site Planning classes.  She is also a recommended designer for them.
Green Posting is an online sustainable community. GreenPosting is more than a just another green directory. People are able to learn about what makes a business green-leaning and review them on your experience regarding their sustainable attributes. Greenposting also has a community calendar of events, job postings, links to bike maps and more.

Plant Native is dedicated to moving native plants and naturescaping into the mainstrem. Their website has resources including directories of native plants, community groups dedicated to eradicaticating invasive species and/or gardening with natives and a 10-page tutorial, "How to Naturescape."
Redirect Guide is the Portland-Vancouver directory of ecologically wise, socially responsible and health-oriented businesses. I now have an iSaveGreen discount coupon downloadable from the ReDirect Guide website. Follow this link to download it. Or search online for other products or services.
Northwest Coalition for Alternatives to Pesticides offers a wide range of downloadable information on non-chemical solutions to controlling garden pests, weeds and plant diseases. They publish the Journal of Pesticide Reform.
Metro's Natural Gardening Guide is a 70-page book, in pdf format, presented cooperatively by Metro and the Oregon Department of Environmental Quality. The website also has links to related material on other websites.
Trees Are Good is an educational website that provides quality tree-care information, including instructions for the correct way to plant new trees, how to find an arborist and the value and benefits of trees.
The Silent Invasion is a website that provides a quick guide to invasive plants in Oregon. You can select a state region to see a photo and full description of each invasive plant and links for further information. There are also downloadable guides for managing or eliminating invasive plants for gardeners and other outdoor folks.
Plants
Blooming Nursery's site has a database to help you find the plant you need by such characteristics as plant type, size, color, and bloom time. Links connect you to plant and disease control handbooks, sources for garden-related products and services and professional organizations. Click on the Plant Finder button to learn about some of the greatest plants out there!
Hobbs & Hopkins, maker of ecology lawn mixes for low water use and less mowing lawn alternatives.
Monrovia Nursery has information on drought-tolerant plants. Their Garden Inspiration Center provides plant lists for gardens to attract birds and butterflies, shade gardens and more. This site has gorgeous plant photographs that alone make the click worthwhile! There's a section where you can submit any gardening question to experts at the National Gardening Association.
Stepables will help you find (or sell you) plants that tolerate various amounts of foot traffic. The company, in Salem, provides photos of their plants and will point you to local outlets to purchase them.
Little Prince of Oregon is a wholesale nursery that supplies native plants, ground covers, ferns, ornamental grasses, sedums,  living wall modules and more to retail nurseries all over the Portland Metro region.  Find information about their plants and where to purchase them.  Amy is listed as a friend on their resource page.
The Portland Plant List is a great resource for native plants organized by habitat and grouped with native plants that naturally grow together. Other downloadable lists on this page include nuisance plants and invasive plants that require eradication.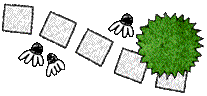 The American Conifer Society has a database of conifers, a photo gallery to help you identify or choose conifers for your landscape and tips for caring for conifers.
Soil Builders: I recommend this excellent thoroughbred compost and mighty microbe mulch to my clients – out of Ridgefield, WA.