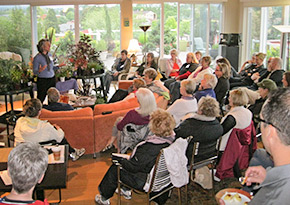 I present workshops and classes related to earth friendly gardening and design at trade shows, conferences, community events, nurseries and garden clubs in the Portland area and beyond.
Since 2009 I have been a presenter for the four-hour Naturescaping & Rain Garden workshop series through East Multnomah Soil & Water Conservation District.
To view the schedule and/or to sign up for a class, visit their website.
I am available to speak on a variety of topics related to gardening and garden design with an eye to sustainability and caring for ourselves and our environment, including:
building and maintaining rain gardens;
using living fences to create wildlife corridors;
designing gardens for healthy, greener lifestyles;
low maintenance garden design;
creating a backyard habitat garden;
7 steps to waterwise gardening;
marketing for garden designers
As part of the The Garden Design Studio I have co-designed numerous award winning display gardens including – Go Native: A Bird Friendly Display Garden, Lewisia & Clarkia:A Garden of Discovery, In the Company of Rain,  and most recently Abundant Nature: An Enchanted Food Forest, as well as numerous other showcase gardens at spring and fall garden shows. I am listed as a Rain Garden Design resource on the Portland Bureau of Environmental Services website, having received both their stormwater retrofit training and their Ecoroof training.  I am also on the Backyard Habitat Certification Program's referral list for designers.  I've been active in various positions within ANLD, and have been the Legislative Advocate for APLD Oregon since 2005.
To schedule a class or speaking engagement in the greater Portland area, please call 503-239-0105, or email me here.