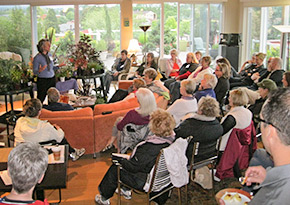 I present workshops and classes related to earth friendly gardening and design at trade shows, conferences, community events, nurseries and garden clubs in the Portland area and beyond.
Since 2009 I have been a presenter for the four-hour Naturescaping & Rain Garden workshop series through East Multnomah Soil & Water Conservation District.
To view the schedule and/or to sign up for a class, visit their website.
I am available to speak on a variety of topics related to gardening and garden design with an eye to sustainability and caring for ourselves and our environment, including:
building and maintaining rain gardens;
using living fences to create wildlife corridors;
designing gardens for healthy, greener lifestyles;
low maintenance garden design;
creating a backyard habitat garden;
7 steps to waterwise gardening;
Since 1998, Amy has been helping her clients craft earth friendly gardens and deepen their connection with the natural world. She has received numerous awards for her educational and habitat gardens, and has received Best of Houzz awards for both Design and Customer Service for 8 years in a row.
Her background combines horticulture and fine arts. She teaches Naturescaping, Native Plants and Rain Garden classes for E. Mult. Soil & Water Conservation District, and presents on various sustainable design topics to homeowners, gardeners and professionals alike.
Since 2005 she has been a vocal advocate for the rights of Oregon's Professional Landscape Designers to practice their trade.
To schedule a class or speaking engagement in the greater Portland area, please call 503-239-0105, or email me here.